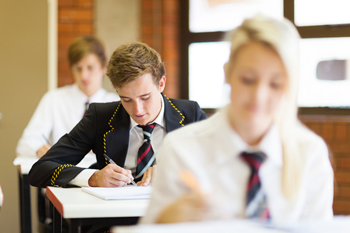 Sexual harassment, including online sexual abuse, has become 'normalised' for children and young people, Ofsted has found.
Ofsted's inspectors visited 32 state and private schools and colleges and spoke to more than 900 children and young people about the prevalence of sexual harassment in their lives.
Around nine in 10 of the girls we spoke to said that sexist name calling and being sent unwanted explicit pictures or videos happened 'a lot' or 'sometimes'.
Inspectors were also told that boys talk about whose 'nudes' they have and share them among themselves like a 'collection game', typically on platforms like WhatsApp or Snapchat.
'This review shocked me. It's alarming that many children and young people, particularly girls, feel they have to accept sexual harassment as part of growing up. Whether it's happening at school or in their social life, they simply don't feel it's worth reporting,' said Amanda Spielman, Her Majesty's chief inspector.
'This is a cultural issue; it's about attitudes and behaviours becoming normalised, and schools and colleges can't solve that by themselves.
'The Government needs to look at online bullying and abuse, and the ease with which children can access pornography. But schools and colleges have a key role to play. They can maintain the right culture in their corridors and they can provide RSHE [relationships, sex and health education] that reflects reality and equips young people with the information they need.'
Responding to the report, Cllr Anntoinette Bramble, chair of the Local Government Association's (LGA) Children and Young People Board, said: 'Any incidence of sexual harassment or assault is abhorrent. No child should fear going to school, and we must all look carefully at how we can change the attitudes in our society that lead to this behaviour being normalised.
'Keeping children safe is everyone's responsibility, and local safeguarding partnerships, including councils, health providers and the police along with schools will want to consider carefully the findings and recommendations of this report.'