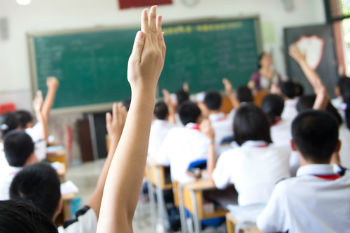 The rate of improvement in secondary schools has 'stalled' with 170,000 pupils in 'inadequate' schools, according to warnings from Ofsted.
Publishing its Annual Report, Ofsted's chief inspector Sir Michael Wilshaw, said that while primary schools continue to improve, the performance gap between primary and secondary schools is widening.
While 82% of primary schools are now good or outstanding - an increase of 4% on last year - the number of secondary schools at this rating remains unchanged at 71%.
The report also shows there are 13 local authority areas where children have a less than 50% chance of attending a good or outstanding secondary school.
Sir Wilshaw, said: 'I believe the time has now come to move away from the debate that has raged for the past five years about school structures and towards a sharper focus on what works in all schools, regardless of their model or status.
'The essential ingredients for success are no secret and have been well documented from time immemorial strong leadership, a positive and orderly culture, good teaching and robust assessment systems.'
Sir Wilshaw said he was also concerned that a number of local authorities were failing to provide the necessary 'challenge, support and intervention' to their constituent schools.