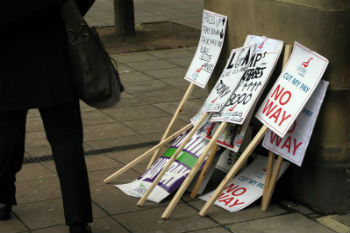 Council leaders in Scotland have attacked the UK Government's 'unjustified' proposals to shake up the way local authorities work with unions.
The Convention of Scottish Local Authorities (Cosla) said it would 'stand shoulder to shoulder' with union colleagues to oppose the Trade Union Bill.
It believes there is no evidence to back up the idea that changes outlined in the bill will 'modernise the industrial relations between councils and their trade unions'.
Councillor Billy Hendry, Cosla's HR spokesman, said: 'We have a constructive environment now where we work with our trade union partners to the benefit of all communities in Scotland. The UK Government, through this Bill, would force councils into changing the arrangements for "check off" and facility time which work well for both parties and the cost of these arrangements are already covered by direct contributions from the trade unions themselves.
'Scottish councils are devolved public bodies and we are making it clear that we consider ourselves empowered to make our own arrangements with the trade unions in these matters. We will honour and protect existing industrial relations arrangements in local government.
'Cosla will now work with the trade unions to persuade the Westminster Government to reconsider this unnecessary and unjustified imposition which could ultimately lead to more industrial unrest across the country.'
Gary Smith, acting secretary for the GMB Scotland union, urged the Scottish Government and local councils not to implement the Bill if it becomes law.
'The Scottish Government argues for an open and inclusive Scotland. These rules are in contravention of our fundamental freedoms of speech, of assembly and of association.
'The Scottish Government should make clear to the Scottish Police Service that policing the new rules on picketing plans in trade disputes is not a priority and that resources should not be diverted from fighting crimes to implementing these new rules.
'Scotland has a long history of dissent against unjust laws and attacks on fundamental freedoms. The Trades Union Bill is this generation's poll tax moment.'