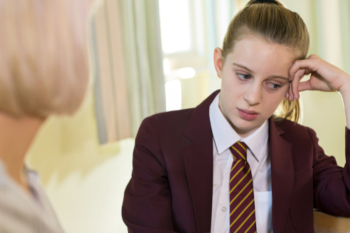 Teachers have told Ofsted that they want to see more support for parents to help them push back against the practice of 'off-rolling'.
A YouGov survey of over 1,000 teachers found that a quarter have seen off-rolling take place in their school and two-thirds believe the practice is on the rise.
'Off-rolling' is when a child is removed from the school roll for the school's benefit rather than in the child's best interests.
Half of the teachers said the main reason for schools to off-roll a pupil is to manipulate league tables. Removing underachieving students from the roll improves grade averages.
The teachers who took part in the survey, which was commissioned by Ofsted, said they believed parents are likely to be pressured into taking their child out of school.
The survey respondents spoke of 'fear-mongering', with school management giving parents a 'worst case scenario' for their child's future if they remained in the school.
Some even talked of behavioural issues being 'dressed up' to support the pupils' removal.
The teachers said that they want to see better support for parents, so they understand their rights and options.
The survey also found that there was a mixed understanding among teachers about what off-rolling entails.
'These are troubling findings,' said Amanda Spielman, Ofsted's chief inspector.
'While not every school is off-rolling, teachers tell us that some are clearly pushing vulnerable pupils out through the back door with little thought to their next steps and best interests.
'Ofsted takes a dim view of off-rolling. When inspectors uncover evidence of this happening we make it clear in our inspection reports.
'And under our new inspection regime, taking effect in September, schools found to be off-rolling are likely to be rated inadequate for their leadership and management.' https://www.localgov.co.uk/Ofsted-to-retain-grading-system-in-new-inspection-framework/47314