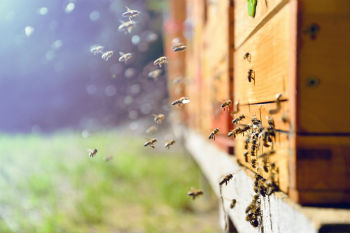 Across the UK forward-thinking councils are playing a crucial role in boosting our beleaguered bee populations.
Councils such as Devon, Monmouthshire and Newcastle are among a pioneering group of local authorities that have introduced pollinator action plans, and a number of others are busy drawing one up.
And councils are discovering that some policies aren't just good for bees - they can save tens of thousands of pounds too.
Britain's bees are in decline. Since 1900, the UK has lost 11 species of bee, and a further 35 are considered at risk of extinction. Other pollinators too, such as moths and butterflies, are also demonstrating steep reductions.
The threats are numerous: pesticide-use, disease, climate change and habitat loss - 97% of our flower rich meadows have disappeared since the 1930's.
With their wide-ranging responsibilities, services and land-holdings local authorities are in a unique position to help safeguard our native pollinators.
Although many have introduced policies and initiatives aimed at boosting pollinator numbers, a comprehensive action plan enables local authorities to make a significant difference.
Introducing a plan needn't be a massive undertaking, but does need involvement across the local authority, and should sit alongside other initiatives such as local biodiversity action plans, greenspace and green infrastructure strategies.
There are a number of principles and actions that can be applied across council projects, assets and decision-making to ensure pollinators are protected and allowed to thrive.
One of the key areas is planning. This can be used to protect pollinators by avoiding development on sites that are particularly beneficial to them.
Existing plans and policy should also be reviewed to make sure habitats are recognised and adequately protected. Steps can also be taken to ensure that new development results in net gain for bees and other pollinators.
Another important area is the sympathetic management of local wildlife sites, parks, roadside verges and other green space. Reviewing parks management and looking for new opportunities to manage land is essential.
This could include reviewing pesticide policies, allowing wildflowers to bloom naturally and reducing mowing on roadside verges.
Councils are also in a great position to encourage others to take action too: Raising awareness, offering advice and working with local people schools, businesses, local communities and residents. Around 87% of UK households have a garden and estimates suggest that private gardens cover an area about the size of one-fifth of Wales – lots of space to create pollinator-friendly habitat.
One of the councils championing pollinators is Dorset County Council. Its action plan focuses on changing the cutting of hedges to offer more food and shelter for bees, implementing planting schemes for wildflowers, trees and shrubs that are beneficial to pollinators, and reducing pesticide use.
'We are very proud to be one of the first local authorities to produce and implement a pollinator action plan', says Dr Annabel King, senior ecologist at Dorset County Council.
'The plan has enabled us to make significant savings - we save around £93k a year by only cutting rural road verges when needed, allowing wildflowers and grasses to flower and set seed.'
And Dorset isn't unique. Other councils, such as Burnley and Monmouthshire also save tens of thousands of pounds annually through bee-friendly grass-cutting practices
Taking action is also popular with the public. Last year a Friends of the Earth and Buglife survey found nearly two thirds of the public wanted councils to do more to help bees, and over 80% backed calls for areas of grass to be cut less often in parks and roadside verges to allow wild flowers to grow.
It's extremely encouraging to see a number of councils at the forefront of efforts to protect our precious pollinators – but we need more to act.
Friends of the Earth and Buglife have produced a guide for councils on drawing up a pollinator action plan. You can find it here.
Sophie Hamnett is from Friends of the Earth.
This feature first appeared in Local Government News magazine.