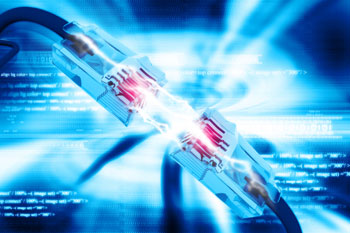 A new study has revealed that over two-thirds of England's counties have lower than average broadband speeds.
The analysis by the County Councils Network (CCN) found broadband speeds in rural areas are up to three times slower than neighbouring cities only a few miles down the road.
For example, locations in North Yorkshire have an average download speed of 30.2mbit/s, compared to neighbouring York's average speed of 102mbit/s.
According to the study, the highest speed in England is 102.9mbit/s in York, whilst the lowest average speed is 21.8mbit/s in West Devon. A total of 169 areas in England have broadband speeds below the national average, with 83% of these locations based in England's counties.
Council leaders warn this is putting rural counties at a 'competitive disadvantage' to urban areas.
Cllr Philip Atkins, vice-chairman of CCN and leader of Staffordshire County Council, said: 'It cannot be right that in some areas, businesses and residents in a city less than 10 miles down the road from a rural county benefit from average download speeds of more than three times faster.
'While the government has announced investment in this area, we remain concerned that digital infrastructure in counties isn't getting the attention it desperately needs.
'The ultimate success of the government's Industrial Strategy will hinge on ensuring we drastically improve national productivity in all four corners of the country post-Brexit. This means ensuring we invest in digital infrastructure.'