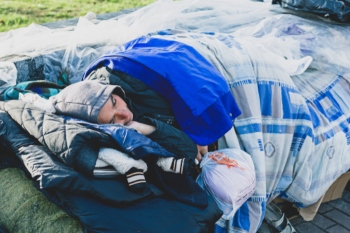 The number of people sleeping rough in England was up by more than half on 2010 despite the Everyone In scheme, the latest annual snapshot has shown.
Official statistics showed there were 2,688 people estimated to be sleeping rough on a single night in autumn 2020 - up by 920 or 52% since 2010.
The figure was down by 1,578 people or 37 % from last year and 43% lower than the peak in 2017.
Local authorities said the latest figures were due to people losing their jobs and being unable to pay rent or accommodation tied to employment, illegal evictions, relationship breakdowns, sofa surfers being asked to leave and reduced winter shelter provision.
Chief executive of charity Homeless Link, Rick Henderson, said: 'People with no recourse to public funds, and those newly arriving on the streets having lost jobs and homes during the pandemic, continue to be overlooked in the current homelessness response, to their huge detriment.'
Westminster City Council - consistently the local authority with the highest number of people sleeping rough since the snapshot approach was introduced in 2010 - had the highest number of people sleeping rough, followed by Manchester and Bristol.
The largest increase in the number of people estimated to be sleeping rough was in Tower Hamlets, where there were 40 rough sleepers compared to 17 last year.
Chief executive of charity Shelter, Polly Neate, said: 'No one should be sleeping rough during the pandemic and we're still a long way from zero.'
Director of homelessness services at The Salvation Army charity, Lorrita Johnson, warned: 'We have yet to see the true impact of the pandemic on people's lives but we expect many more people to be at real risk of being made homeless as the economy bites.'
John Glenton, executive director of care and support at Riverside, said: 'The achievements of this Government in helping to reduce rough sleeping should be commended but we now need to build upon this and provide appropriate housing and tailored care and support packages for people to ensure that they sustain a home long-term instead of returning back to the streets.
'As a country we also need to ask ourselves why so many people are falling through the safety net and we've needed to support 33,000 people affected by homelessness during the pandemic?'
Louise Casey, who led the drive to find accommodation for all rough sleepers during the early months of the COVID-19 pandemic, said earlier this year that tackling rough sleeping had been 'dumped on' local authorities.