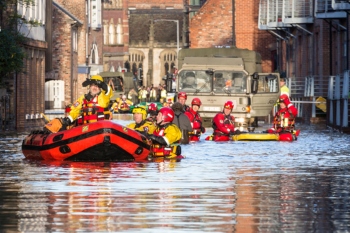 One word that became intrinsically linked with any commentary around the COVID-19 pandemic was 'unprecedented'.
This was often used by those in charge to mitigate against any criticism of their response to the crisis.
Unfortunately, we can confidently predict that the UK and the wider world will experience many more 'unprecedented' challenges in years to come.
In fact, the Government regularly publishes the National Risk Register, which looks at the likelihood and potential impact of a range of different risks in the next two years, and this stimulates consideration of the measures currently in place to deal with them.
It includes everything from pandemics to extreme weather, cyber terrorism, critical infrastructure failures and even volcanic eruptions.
Risk and resilience
But, in a move to learn lessons from the pandemic, last year the House of Lords Committee on Risk Assessment and Risk Planning launched a major review of the nation's risk assessment and planning system, and I was asked to give evidence.
Their report, titled 'Preparing for extreme risks: building a resilient society' has now been published and it finds the current system to be 'deficient and too inflexible to provide the protection our nation needs".
They say there is too much secrecy – perhaps driven by a desire to avoid public panic – which means that important messages on risks are not communicated until an emergency happens, which may be too late for communities and organisations to be prepared.
So, what is the solution?
Better together
We need honest and open conversations about risk. Many people will not be interested, but some will and will take action to protect themselves, their communities and their organisations from disruptive events. The pandemic taught us that Government alone cannot be responsible for responding to events. The public and organisations have demonstrated that they are an important part of the solution. Many wish to be involved, but they don't always know how to satisfy that wish.
So, we urgently need a more effective 'whole of society' approach that brings together groups of people who wish to be involved in thinking through risk, preparedness and response. We need to learn from their experiences.
This could see community members and leaders, local authorities, businesses and charities come together to identify the most vulnerable individuals or groups who are likely to be those most acutely affected by crises.
A national chief risk cfficer could then work to address any systemic vulnerabilities and lack of preparedness.
But risk is an extremely hot political potato, as identifying increased risks brings an expectation to do something about them. Again, communities and organisations can help by understanding the local nature of risks, pinpointing those vulnerabilities, and working to enhance their own preparedness - and local government can help them to understand how to leverage their agency to do so.
Whole of society
We took a step in that direction with the founding of the National Consortium for Societal Resilience [UK+], known as NCSR+, which was established last year to enhance the UK's whole of society approach to resilience.
It brings together 62 organisations that are central to building resilience in the UK, from business, government, academia and the voluntary sector.
Through the NCSR+, local governments are working to collaborate to bring together good practice, develop nationally consistent approaches to work even more closely with their local communities and organisations, and with each other, to pursue this national endeavour.
But historically, local government hasn't been effectively resourced to tackle these risks, even though much of the risks are felt at a local level, like floods, moorland fires or industrial outages – emergencies often exploit critical weaknesses in society and target already vulnerable groups.
Instead, communities have rallied themselves.
We saw this during the pandemic, when hundreds of thousands of people gave their time for free to support the shielding population and vaccination rollout.
Listen and learn
In many ways our communities provided a masterclass in how they can support each other, managing their own preparedness and needs, and it's clear that lessons can be learned.
So, what will Government do?
We'll find out more about Government's response when it publishes its new National Resilience Strategy later this year, and in the Civil Contingencies Act review on the different obligations for local and national on community resilience, which is also to be published this year.
Ultimately, these are risks that are shared by everyone in society and we must all share the responsibility for making our nation as resilient as possible.
That means backing communities and providing them with the knowhow and tools when they want to share ownership of the local response to any future crisis.
Duncan Shaw is professor of operational research and critical systems at Alliance Manchester Business School and co-chair of the National Consortium for Societal Resilience