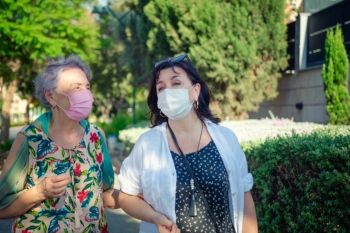 There will be no limit on visits to care homes and self-isolation periods will be cut from Monday, the Government has announced.
It said the restrictions were being lifted in adult social care settings due to the success of the booster programme.
From next week, there will be no limits on the number of visitors allowed into care homes and those receiving care and testing positive for COVID-19 will only have to self-isolate for 14 days rather than 28 days.
Minister for Care Gillian Keegan said: 'Thanks to the continued success of the vaccine rollout, I am delighted we can ease restrictions in care settings and allow unlimited visits to ensure people living in care homes see all their family and friends.
'The changes announced today are backed by scientists, ensuring we all have more freedoms from coronavirus, including care home residents and their families.'
Vic Rayner, CEO of the National Care Forum, said: 'Whilst this policy change is really positive for people in care homes and their friends and families, care services will of course need to continue with all the COVID related testing and PPE requirements for visitors. As we know, care providers are continuing to face very significant workforce pressures, with high levels of vacancies as well as staff shortages as a result of COVID related absences, so this may impact providers' ability to implement these changes at speed.
'We have heard the headlines, we now need to see the detail of how providers will be supported to put this policy into practice. We look forward to seeing the guidance as soon as possible so that care providers, residents and their families all understand what this policy actually means.'