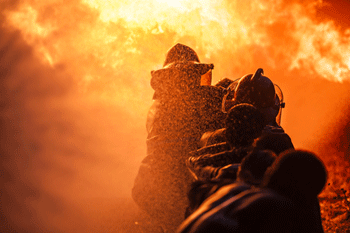 A third of fire and rescue services would not send sufficient resources to high-rise fires, the Fire Brigades Union (FBU) has warned.
Marking the third anniversary of the Grenfell Tower fire, the union said residents face a 'postcode lottery' when it comes to fire and rescue response.
There is 'huge variation' between brigades' pre-determined attendance (PDA) levels, that is, the number of fire engines initially sent to a high rise fire, according to the FBU.
PDAs range from up to 10 fire engines and a high-reaching aerial appliance in London down to as few as two fire engines and an aerial appliance in North Wales.
UK fire services were subject to national minimum standards for fire and rescue response for most of the post-war era, but they were scrapped in 2004.
The FBU described the lack of national standards as a 'scandal'. Twenty-five of the UK's fire and rescue services have increased their high-rise PDA since July 2017 in response to the Grenfell fire.
However, 19 have seen no change and the PDAs in two services have worsened.
'It's shocking that, three years on from Grenfell, high-rise residents still face a postcode lottery in fire and rescue responses. Lives in London and the South East are worth no more than the rest of the country, yet different regions have drastically different standards,' said Matt Wrack, FBU general secretary.
'While fire brigades can and should do better, this is ultimately a failure of government policy. Services have had their funding slashed for more than a decade and there are still no nationally-mandated minimum standards for high-rise fire response. It's an utter scandal.'