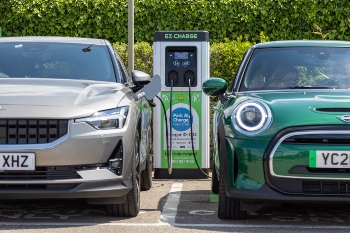 Electric Vehicles (EVs) make up less than 1% of the vehicles we see today on the UK's roads, which doesn't sound like much, but almost 10% of new cars purchased in the past year have been battery electric. And if you take an interest in such things, you soon start seeing EVs everywhere. The Teslas are easy to spot, but it's surprising how many other cars have little green strips on their number plates.
Then you start noticing EV charging stations, hubs or points. The ones at motorway services might catch your eye first or perhaps the ones installed at your local supermarket. But actually, the vast majority of those EVs you've spotted driving around will have been charged on someone's driveway at their home.
So, what happens as EV uptake grows and those without driveways want to purchase them? Where will they charge? An estimated 25-30% of households in England park their car on-street. Perhaps you've seen an EV charging cable trailing across the pavement, sometimes covered by a little high-vis mat. I once saw an EV cable not only trailing across the pavement, but then on up to a second story window. This is not a safe or sensible solution. It can cause a dangerous tripping hazard, aggravate neighbours, and be unreliable in areas where parking pressure means you might not always get that on-street space right outside your house.
Besides, residents who park on-street are not the only type of household who may not be able to charge from home. Car parks, communal parking areas, private laybys and garage blocks all offer off-street residential parking, but installing a charger or even electricity connection may not be straightforward.
That's why, at The University of Oxford's Transport Studies Unit and Energy and Power Group, we've been researching public charging options for residents who cannot charge at home. We've been looking at how much public charging is needed and where it should be installed. We've asked people who don't have a driveway what sort of service this charging infrastructure should provide and what will give them the confidence to switch to an electric car.
Some public charging in residential areas enables those parking on-street to plug into lamp posts and bollards, or offers grants for alternative private charging via channels dug into the pavement or wireless connections. However, even when technologically perfected, these solutions retain some of the drawbacks of informal on-street charging, particularly on streets where there is competition for parking spaces between neighbours and other kerbside uses such as deliveries, or where there are potential conflicts with pedestrians navigating cluttered pavements.
Public charging in car parks near residential areas where driveways are in short supply offer an attractive alternative, especially as they can host multiple charge points, offering flexibility for both the operator and the user. But are such hubs attractive to the households they are intended to serve? What aspects of the service are important to these user groups? And how does parking and charging in a car park compare to the other changes to parking routines made by households who have already switched to EV? What can current and potential EV drivers learn from each other?
Our research at the University of Oxford has asked all these questions and the findings and their implications will be shared during a free webinar for transport practitioners and policymakers on 10th Feb 2021, 12.30-2pm. To find out more and register to attend, visit the Eventbrite page.
Hannah Budnitz is a Research Associate at the University of Oxford's Transport Studies Unit