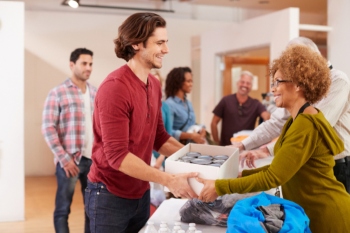 Over 150 local authorities are not operating community support hubs that provide vital services for vulnerable people, research has revealed.
The Carnegie UK Trust found that only 241 local authorities have recognisable community support hubs in operation despite local lockdowns rapidly re-merging across the country.
The hubs offer lifeline services to vulnerable people such as helplines, food parcels, tackling loneliness and financial support.
Sarah Davidson, CEO of The Carnegie UK Trust, said: 'The most vulnerable in our society have felt the harshest impact of the coronavirus pandemic. But while people were staying apart, services for vulnerable people were coming together in a way not seen before.
'These community hubs threw the public sector rulebook out of the window in order to get the job done – and we must take heed of this as authorities plan for the next phase of the virus.'
The Trust found that successful hubs were able to handle thousands of enquiries at the start of lockdown, mostly regarding food and medical supplies.
Ms Davidson added: 'By working across sectors, community hubs can be the vehicle through which resilient communities are supported and a preventative approach can be taken to poverty, mental health, and financial hardship. We would encourage all local authorities to set up formal community support hubs in response to the enduring nature of this pandemic.'