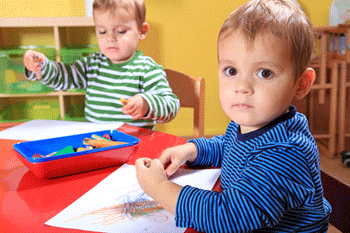 Sure Start centres prevented thousands of children from being hospitalised and cut health inequalities, according to new research.
Research found the centres, which were established in 1999 to provide support for parents with young children in disadvantaged areas, had positive effects on those who had been through the programme, preventing hospitalisations at age five by 7%.
The new research from the Institute for Fiscal Studies (IFS) think-tank suggested Sure Start had long-lasting health benefits for children beyond their time in the scheme.
Peak levels of Sure Start provision during childhood prevented more than 13,150 hospitalisations of 11- to 15-year-olds each year, the report found.
Maud Pecher, a co-author of the report, said: 'By bringing together a wide range of early years services for children under five, Sure Start centres dramatically improved children's health even through their teenage years.
'Children who had greater access to Sure Start in their early years were far less likely to be hospitalised later on.'
Ms Pecher added that the benefits were particularly long-lasting for boys, reflecting their greater sensitivity to disadvantage at a young age.
Ministers spent £1.8bn on the scheme at its peak in 2010, a third of the budget for early years support, but in the two decades since the centres opened funding has been cut by two-thirds, forcing centres to close or be reintegrated with others.
Sarah Cattan, a co-author of the report, added: 'Ahead of this autumn's tight Spending Review, these results are a reminder that policymakers should consider a programme's potential for long-term savings - not just its up-front costs.'