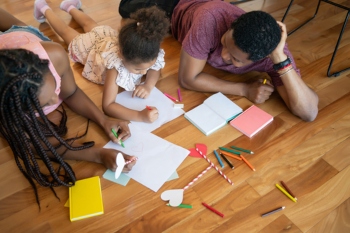 A charity has called for all children in care to have the opportunity to attend Adoption Activity Days (AADs), often seen as the 'last resort' for those who are harder to place.
A report published by Coram found its AADs have secured matches for over 1,400 children in the past ten years, the equivalent of one in four children attending the events.
AADs are informal events bringing together children and approved adoptive parents, enabling matches to be made across geographical boundaries. A third of children attending the events had additional complex needs, a third were from a black or minority ethnic background, and a quarter were part of a sibling group.
Analysis by Coram found it would have cost £250m to care for the 1,400 children matched through an AAD. If those children would have stayed in care until their 18th birthday, it would have cost the state an estimated extra £550m between 2011 and 2031.
Dr Carol Homden, CEO of Coram, said: 'We believe that all children waiting should be given the chance to find a family at an AAD and that this should be an entitlement as part of the Government's proposed national matching service.
'Currently the majority of children waiting are not given this opportunity, and so commitment is needed to extend AADs to all adopters and children as part of a range of family finding approaches to make sure that every option is explored and every child has the best chance to thrive within a permanent, loving family.'
The report also shows that 40% of approved adopters said attending the events helped to broaden their perspective, and half said it positively impacted their adoption journey, even if they were not matched with a child as a result.