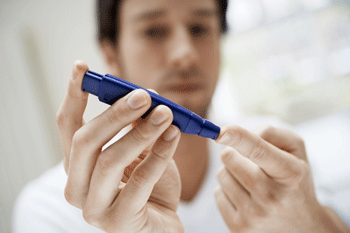 A new report has revealed five million people in England have a high risk of developing type 2 diabetes.
Public Health England (PHE) said the findings underline the need for greater intervention and support, with type 2 diabetes already costing the NHS £8.8bn a year and accounting for 22,000 premature deaths.
The study, by PHE's National Cardiovascular Health Intelligence Network, examined how many people over 16 have blood sugar levels high enough to put them at risk.
Duncan Selbie, chief executive of PHE, said: 'We know how to lower the risk of developing type 2 diabetes: lose weight, exercise and eat healthily, but it's hard to do it alone. PHE's evidence review shows that supporting people along the way will help them protect their health and that's what our prevention programme will do.'
Barbara Young, chief executive of Diabetes UK, said: 'Having high blood glucose levels significantly increases your risk of developing type 2 diabetes, which is a serious health condition which affects 2.9 million people in England, and can lead to devastating complications such as blindness, amputations and stroke, and ultimately early death.
'This is why it is really important that people at high risk of developing type 2 diabetes are given evidence-based support to reduce their risk. As well as helping to reduce the human cost of type 2 diabetes, this would also go a long way to helping to reduce costs to the NHS.
'The NHS spends 10% of its entire budget managing diabetes and unless we get better at preventing Type 2 diabetes this figure will rise to unsustainable levels.'