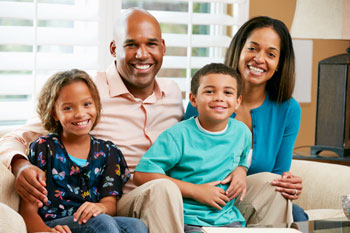 A new study has found Sandwell, Barking & Dagenham and Newham to be the least family friendly local authority areas in the country – but said most of the blame lies with central Government.
The annual Family Report Card, which examines local and national data on everything from work-life balance to essential services for children, awarded Government a grade D for its efforts to be family friendly.
The Family and Childcare Trust, which produced the report, found Bath and North East Somerset to be the most family friendly area of England, closely followed by Windsor and Maidenhead.
While Sandwell came out bottom of the league, the charity pointed out that 'many of the indicators we analysed are outside of the control of the local authority, such as indicators that relate to income and employment'.
Chief executive Julia Margo said: 'While the Government should be applauded for its ambitious plans to help families with the cost of childcare and extending parental leave to grandparents, it's clear that many parents feel other Government policies on housing, wages and benefits are far from family friendly.
'If this was a school report, a D grade would represent a poor result. The failure of Government to tackle soaring housing costs and the cuts to working tax credits will see the UK move backwards as a family friendly nation, unless action is taken now.
'We want to see the Family Test applied consistently to all major policy announcements, including decisions such as the one made to cut tax credits for working families, and extended to local areas – so parents can hold government at all levels to account.'
Top 10 most family friendly:
1. Bath and North East Somerset
2. Windsor and Maidenhead
3. Richmond
4. Wokingham
5. Dorset
6. West Berkshire
7. Hampshire
8. Surrey
9. Trafford
10. Cheshire East
Top 10 least family friendly:
1. Sandwell
2. Barking & Dagenham
3. Newham
4. Walsall
5. Brent
6. Notttingham
7. Waltham Forest
8. Luton
9. Croydon
10. Enfield