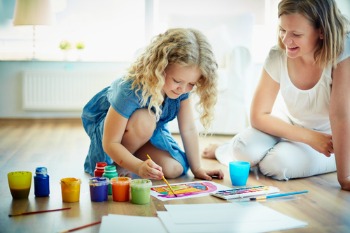 Child benefit should only paid to the poorest families if they enrol their children in quality pre-school education from the age of two, according to a new report.
Think tank Bright Blue said the same rule should also apply to all parents eligible for early years free entitlement once their children are three years old.
Its report argues exposure to nurseries and pre-schools helps children's development and reduces their likelihood of living in poverty.
A carrot and stick approach should be taken to ensure Sure Start Children's Centres increase participation by disadvantaged people from ethnic minority backgrounds via financial rewards and fines, it said. And Ofsted should 'take into account whether the social composition of their governing bodies or advisory boards reflects that of local communities'.
The report's author Ryan Shorthouse, who is director of Bright Blue, said: 'Reducing poverty is not just about people having more money, important as that is. There is now evidence which shows that having strong and diverse relationships is associated with a reduced likelihood of being in poverty.
'Universal public services such as Children's Centres and nurseries are key institutions where people from different socioeconomic and ethnic backgrounds can forge relationships with one another. But the poorest adults and children, including those from ethnic minority backgrounds, are often the least likely to participate in these institutions.
'This means they miss out not only on the important services being offered in these public services, but the chance to diversify their social networks, which can lead to increased knowledge - such as about job opportunities – or skills – such as better English. In actual fact, these local institutions are on the front line of building a more integrated Britain.'