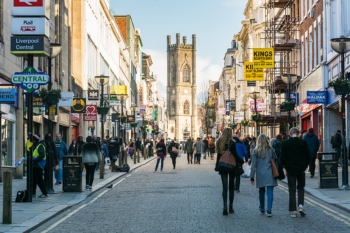 A new report has identified 52 local communities are at risk of increased far right activity due to the pandemic.
Research by the HOPE not hate Charitable Trust warned the economic impact of the pandemic puts 16 areas 'particularly at risk' of increased social divisions and community tensions.
Local community leaders in these areas - which include Blackpool, Liverpool, Leicester and Luton - warned the pandemic could deepen the scars left by austerity. Some also warned they were having to rely on charities to overcome the social issues caused by COVID-19.
As part of the research, a survey found more than six in ten people (62%) are concerned the coronavirus outbreak is exposing 'great inequality' in British society.
As many as 80% of those polled were not confident that Boris Johnson will succeed in 'levelling up' the country.
'The post-pandemic landscape poses enormous challenges for ensuring hope over hate,' said Rosie Carter, head of policy at HOPE not hate.
'The economic impact of the pandemic will be palpable, and many communities across the country are rightly worried about what the future will hold. But an additional risk that our research has identified is the fact that without a renewed focus on establishing social cohesion, 'levelling up' will not succeed.
'To truly succeed in 'levelling up' and to fill the public with confidence in the government's ability to create meaningful change, we need look beyond definitions of 'levelling up' which relate purely to economic infrastructure.'
Photo: iaminut / Shutterstock.com