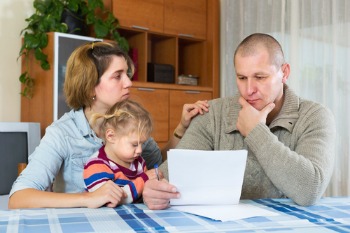 Hundreds of thousands of people are ineligible for benefits despite facing financial insecurity due to the coronavirus pandemic, study reveals.
A new report funded by the Health Foundation found that last July/August there were around 200,000 people ineligible for Universal Credit (UC) solely due to their partner's earnings.
It also discovered that 200,000 were ineligible solely due to savings, and at least 50,000 were ineligible solely due to their migration status.
More broadly, there were around 500,000 people who had lost 10% or more of their household income during the pandemic but were ineligible for both UC and contribution-based benefit.
The report's authors, who were researchers from the universities of Kent and Salford connected to the Welfare at a (Social) Distance project, warned that financial strain among most of these groups was relatively high.
Around 40% of each group reported severe financial strain – falling behind on bills or not being able to afford regular fresh fruit and vegetables – and around 50% of each group reported poor mental health.
These were not employees that had completely lost their jobs but were primarily people with reduced income/hours (including furlough) or who were self-employed and not getting enough work.
The report also found that nearly 300,000 people unsuccessfully tried to claim benefits at the start of the pandemic. The most common reasons for rejection were that they/their partner were still earning too much money (45.4%) or had too much in savings (23.9%).
Dr Ben Baumberg Geiger, lead author of the report and a senior lecturer at the University of Kent, commented: 'The benefits system targets those struggling the most – but this misses out people who are struggling, but not quite enough to be eligible for anything.
'To make matters worse, people's awareness of benefits based on National Insurance contributions (rather than need) is low. We need to think about how to redesign the benefits system so that it both helps those most in need, and provides broader support to other people that are struggling.'