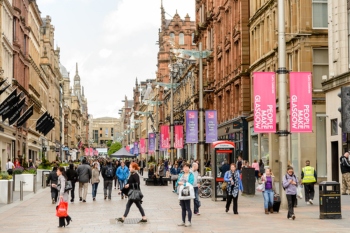 Five of the UK's largest cities could lose £322m a month in city centre spending if people work from home in the long-term, according to new analysis.
Research by the the Centre for Economics and Business Research (cebr) found the pandemic caused £11.9bn of displaced city centre spending in London, Manchester, Glasgow, Newcastle and Cardiff between March 2020 and May 2021.
It estimates these five cities will see employment hub spending fall by more than £300m a month compared to pre-pandemic levels if office workers maintain hybrid work patterns indefinitely.
According to the research, Cardiff has the lowest share of workers who have returned to the office, standing at 50% lower than pre-crisis levels. Newcastle has the highest share of workers who have returned to places of work at only 34% lower than pre-pandemic levels in May.
The briefing states: 'With the Government looking likely to encourage hybrid office work even after restrictions are lifted, there could be potentially fatal consequences for the businesses that are usually the recipients of this city centre spending. This will especially be the case once Government support from the furlough scheme dries up.
'A potential opportunity may be rising demand for places to eat, drink and shop in residential areas, as people continue to spend more time nearer their home. Government support to help employees and businesses adjust to these new opportunities through education and training may be a potential solution.'
Photo: cornfield / Shutterstock.com