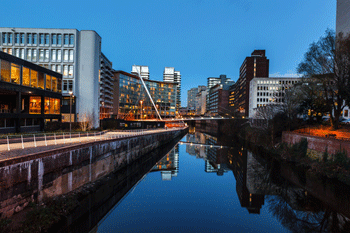 Councils and UK regions must send a 'positive message' to international investors if they are to support regeneration, property industry leaders will say.
The British Property Federation (BPF) will today urge locations outside of London to recognise how a thriving property industry can be an effective catalyst for job creation and growth.
Ahead of the International Festival of Business 2014 Property Conference, Liz Peace, chief executive of the BPF, said: 'It is really important to get the message out that there is huge growth potential in areas other than London.'
'Cities such as Manchester and Liverpool are seeing huge amounts of innovation and opportunity take place, and we need to let investors know that they are open for business.'
The BPF said regions could match London's strong post-recession recovery if they 'make the most' of opportunities such as HS2.
Bill Hughes, managing director, Legal & General Property, will say: 'It is important that we invest money into critical infrastructure and property in order to drive UK economic growth and support the needs of our increasing population. This should not just be simply focused on London but is a UK wide issue that needs addressing coherently and collectively.
'There are a multitude of opportunities in the regions and investment into these needs to be encouraged further through a progressive approach to planning at a local level, and forward thinking local councils.'
David Marks, co-managing partner, Brockton Capital, said: 'Attractive returns for both property developers and investors are prevalent right across major cities and regions; the 'pull' of the regions and the resultant capital flows into offices, retail, hotels, residential and other schemes are a major catalyst for both job creation, regeneration and growth.'