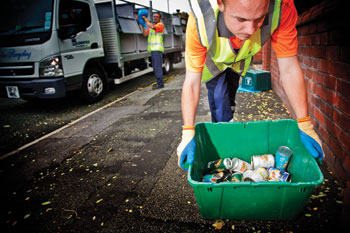 Local authorities have made impressive progress towards increasing domestic recycling rates over the past ten years. The investments made in developing recycling services and householder communications campaigns have paid off, and millions of tonnes of materials are being kept in the loop and out of landfill.
Once collected, sorted and baled, recyclable materials are then sold onto the secondary materials markets, which like any markets, are governed by supply and demand.
Many councils earn revenue from the sale of materials, and by diverting waste for recycling avoid Landfill Tax, set to reach £86.40 per tonne in 2016.
However, according to a recent survey by the Chartered Institute of Wastes Management, austerity measures have led to 48% councils dropping regular recycling communications campaigns to householders and, perhaps unsurprisingly, material recovery rates are starting to stagnate.
So what can be done?
The answer lies in developing creative cross-sector partnerships, joining local authorities, waste management contractors and the reprocessing sector to the benefit of all.
MetalMatters is a great example of this. The campaign is helping to educate and motivate householders to recycle their metal packaging, and in so-doing making a positive contribution to lasting behaviour change and creating a valuable ongoing revenue stream.
Developed and funded by the metal packaging manufacturing industry, reprocessors and fillers, MetalMatters works in partnership with councils and their collection contractors to promote metal packaging recycling at the kerbside.
Metal packaging is the most valuable of the materials that enter the household waste stream. Endlessly recyclable, it has an intrinsic value that is reflected in its market price. It is also simple to recycle since all metal packaging can be collected together in the home in the same bin, so residents engage easily with the metals recycling message, and in turn recycle more.
A MetalMatters campaign is based around two leaflet drops, typically six weeks apart, which inform and then remind householders about what and how to recycle and explain what happens to metal packaging after it is collected.
The leaflet is tailored to fit with existing local authority or waste partnership branded campaigns, and can be backed up with a raft of additional resources such as vehicle livery, displays, roadshow events and newspaper and radio advertising to create a fully integrated marketing campaign. Assistance is available at every stage of the campaign from project managers Alupro, meaning the campaign is easy to implement.
One of the most cost-effective ways to motivate residents to recycle, over the past three years the MetalMatters programme has been delivered in 50 local authorities, directly targeting more than three million households.
As well as boosting dwindling recycling rates, the revenue from the additional metals collected generates impressive return on investment, with campaign costs typically being recovered within a year.
MetalMatters works in urban and rural areas and for councils with co-mingled or source-separated collection schemes, and can be delivered in a single local authority, to targeted groups, or across a waste partnership area. Case studies of the campaign being delivered in diverse scenarios including Kent, Shropshire, Lewisham, Aberdeen and Northern Ireland, are available on the MetalMatters website.
Visit www.metalmatters.org.uk for more information.
Rick Hindley, Executive Director of MetalMatters project managers, Alupro