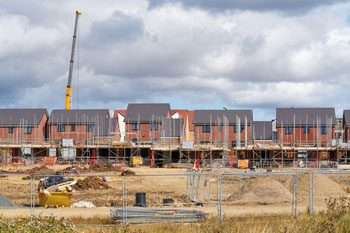 The Government has pledged to push ahead with reforms to the planning system in order to meet house-building targets.
Under the reforms, councils will use a zoning system to assign 'growth', 'protection' or 'renewal' zones in their local plans.
In growth areas, automatic planning permission will be given to developments that meet certain criteria replacing the current system of decideing planning permission on a case-by-case basis.
The Queen said: 'My Government will help more people to own their own home whilst enhancing the rights of those who rent. Laws to modernise the planning system, so that more homes can be built, will be brought forward, along with measures to end the practice of ground rents for new leasehold properties.'
Cllr Tim Oliver, housing, planning and infrastructure spokesperson for the County Councils Network, said: 'Whilst the principle of simplifying local plans is a laudable one, we would like to see further detail about the proposed approach to zoning as outlined in the Planning White Paper.
'We have concerns over how zoning could be applied in rural and urban locations, with county areas containing a mixture of both. It will be vital that any new system is not a blunt instrument but can respond to different geographies. It will also be important to ensure that communities continue to have a voice when plans are being drawn-up.'
Peter Hawthorne, CEO at LCR, said: 'Zoning land for development or regeneration could help unlock much needed housing stock. But the reform announced today will take time to roll out, and local authorities can take advantage of opportunities to bring forward development now to meet existing demand for new housing.
'Transport-linked land is one such opportunity. Executed well, transport-focused regeneration can help to deliver new homes and create jobs for a local area. But critically, it can also act as a catalyst for wider investment in regional economies, making it a natural fit for the "build back better" strategy.'
Today's speech also included a new building safety law to ensure a tragedy like Grenfell is 'never repeated'.
'My ministers will establish in law a new Building Safety Regulator to ensure that the tragedies of the past are never repeated,' said the Queen.