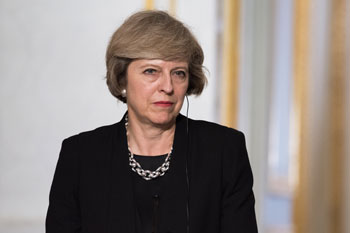 Theresa May is considering scrapping the 1% cap on pay rises for public sector workers, according to reports about the upcoming autumn Budget.
Theresa May has been quoted as recognising the 'sacrifice' of workers and is planning to give the lowest-paid public sector staff a pay rise in line with inflation in April.
According to the briefing, pay rises above 1% for the rest of staff will be phased over a two-year period.
However, trade unions have warned this move would 'undermine' the independence of the pay review body process
Unite assistant general secretary, Gail Cartmail, said: 'The Government's proposals, which will not even come into effect until 2019 for many workers, are a drop in the ocean and will do nothing, to address the years of pay cuts our public servants have had to endure. Ministers make no mention of compensating workers for their lost wages.
'The Government's proposals appear to further undermine the independent pay review process, which has been neutered by the Government's pay cap.
'The independent pay review bodies must be tasked with tackling the challenges of restoring pay to levels which will help to begin tackling the recruitment and retention crisis that is afflicting our public services.'
Adam Lent, director at NLGN, welcomed the move but added the Government should also address the issue of funding for local government. 'The chancellor must also urgently address the severe shortfall in funding now affecting wider public service delivery as well as the issue of pay,' he said.