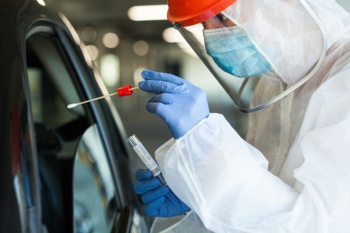 Public health directors have warned of the dangers of ending free access to COVID-19 testing.
Ministers are discussing the content of their national post-COVID plan to be unveiled on Monday.
The Government is reportedly looking at scrapping free PCR (polymerase chain reaction tests) in addition to its previously-announced intention to end lateral flow tests.
In a new paper aimed at influencing the national plan, the Association of Directors of Public Health (ADPH) said such a move would have a 'detrimental impact on take up, especially among disadvantaged communities'.
While acknowledging a programme of the current size was 'not sustainable indefinitely' the association said the tests played a vital role in case identification, and in protecting vulnerable groups and people in 'high-risk settings'.
ADPH added: 'The virus is yet to become endemic and it is difficult to predict when this state may be attained.'
While legal requirements for infected people to isolate will end, ADPH said they should still avoid attending work, and access to testing for workplaces, schools and care homes should be maintained.
ADPH added: 'Personal responsibility in and of itself is an insufficient public health strategy.'
The association has also called for the Contain Outbreak Management Fund to be extended for a year.
ADPH warned 'considerable uncertainty' around funding had led to capacity being reduced, adding: 'Nothing short of a fundamental shift in attention and resources towards improving public health and reducing inequalities will do.'