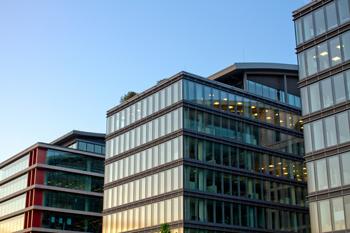 The eye-watering level of investment that local councils are funnelling into commercial property has been well documented. The risks associated with this behaviour are apparent and yet it appears as if most councils are throwing caution to the wind and heading into completely uncharted territory.
Whether they have heeded the advice, or even requested it, from risk management professionals will remain to be seen. Yet, massive commercial investment is just one of several worrying trends that we are seeing local authorities engaged in.
In recent years there have been a number of examples of high rise office type occupancies being adapted and subject to change of use to residential occupancy. Whilst an inventive solution to the current housing crisis, there are risks that have not been adequately factored into the decision-making process of these conversions. Would you expect, for example, that the newly converted home you have just purchased is in line with the most recent regulations? You would certainly think so. But you would be mistaken.
Current regulations do not require residential conversions to adhere to the same rules when being converted from commercial properties. This means you can convert an old office building, shopping centre, or factory into residential housing without having to adhere to what the Government has outlined is best practice. This means that the developers building the new flat you purchased in a converted office space only had to abide by regulations for commercial properties. This includes the type of cladding that wraps the building. Unbeknownst to you the building you and your family have just moved into may have combustible cladding, but all is above board.
This cannot be the way forward. As we explore as many avenues as possible to solve the housing crisis we need to ensure we are doing everything we can to protect life and property.
Conversions are complex and require bespoke solutions to achieve building control compliance. They should not be assessed any differently to new-build residential developments because this could jeopardise the lives and property of those who inhabit these conversions.
We at Zurich Municipal have noticed this increasing trend of commercial property being converted into residential accommodation. Not only do we expect it to continue but if the Government makes it easier for conversions to happen, we would anticipate them to increase dramatically.
Changes to legislation to make these conversions easier could have multiple consequences, including increasing the probability that local authorities will finance conversions as traffic to retail sites dries up; increasing their exposure and the probability that changes to legislation will usually include less stringent regulations.
The fact of the matter is that building regulations need to keep up with changes to the new build and conversion market. These simply are not fit for purpose right now. As Zurich, and myself, have said before, and will say again, we cannot solve a housing crisis while at the same time creating another one. The safety and integrity of conversions needs to be considered at the planning stage, not following a disaster and the resulting public outcry.
Can councils take advantage of this current trend? Absolutely. But we need them to not only act intelligently and within their risk profile, but under the guidance of new regulation. Self-regulation has been shown not to work. When profit-maximising entities are working in an industry with decreasing returns it is obvious that any regulations that are not absolutely required will most likely be left out.
Not only are these residential conversions not required to adhere to the most recent regulations, but many of them have been constructed with modern methods of construction (MMC). While MMC is becoming increasingly common in the construction industry, it is still not time-tested to withstand extreme circumstances, such as fire, flood and escape of water. With all of this in mind, it is time to turn these warnings into action and call on the Government to update the regulation on conversions to incorporate the current reality.
With pressures from the Government to solve the housing crisis, a reduction in footfall across commercial sites and investors and local authorities willing to finance these conversions, it feels as if a perfect storm could be brewing.
The pressures are all focused on getting new houses finished and there are concerns that corners will be cut to achieve this. Should this be allowed, the ends will most certainly not justify the means.
Allison Whittington is head of housing at Zurich Municipal