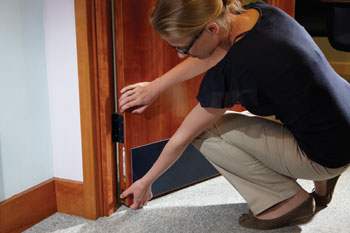 The Grenfell Tower fire in 2017 quite rightly pushed housing providers and local authorities into the public eye. With the housing sector appearing to be in the midst of a safety crisis, it is unsurprising that the sector has received such attention.
Political, public and media scrutiny has meant that housing providers' every move is being watched and judged; but whilst the safety of tenants continues to be questioned, the sector has to be shown to be proactive rather than waiting to be forced to act.
In an already highly regulated environment, the next five years is likely to see a raft of new regulations and legislation brought in, particularly with the Government already committing to implementing the Grenfell Inquiry recommendations in full. The sector's ability to quickly react to these forthcoming regulations will be crucial if it is to retain the confidence of Government and tenants alike.
Don't wait; act now
Proactively dealing with any known issues now, in anticipation of the regulations that are likely to come, means that housing providers are better prepared for implementing their plans for change, whilst still providing the day-to-day maintenance and repairs tenants need.
However, even without the added pressures that future regulations will bring in, housing providers are already struggling to implement the day-to-day repair and maintenance jobs. In a recent FOI request undertaken in 2019 by Oneserve, six councils were responsible for over 2,400 overdue fire assessments a remarkable figure considering the urgency placed on housing providers after Grenfell.
The same FOI request also found challenges in first-time-fix and void turnaround rates highlighting the overall struggle the sector is experiencing in meeting the day-to-day requirements of running social housing. The challenges go beyond the demands put upon the sector by tenants and regulation; in some cases, realising efficiencies within workstreams that could provide immediate financial benefit, i.e. void turnaround times, still remains unreachable.
The regulatory changes the sector is likely to see over the coming months is only going to add to this workload, piling the pressure on social housing providers. The nature of the regulatory requirements will in all likelihood take precedent over the day-to-day work (especially with all eyes continuing to be on the sector post-Grenfell), meaning that these stats are likely to get worse.
Cost is obviously a key factor here too. Birmingham City Council, which has 10% of the country's publicly owned high-rise blocks, has already warned that the £93m it will have to spend on recommendations from the post-Grenfell reports will mean that it will be forced to cut back on basic repairs. Implementing plans which find the right balance whilst also maximising cost savings will need to become the priority.
Communication is key
One of the areas housing providers must address immediately is dealing with tenants' complaints and concerns. Grenfell highlighted the level of concern from residents prior to the disaster, all of which was allegedly ignored by the local authority.
Being seen to, and actually dealing with, issues before regulation forces housing providers' hands, has to be a good thing for the sector's reputation and tenants' safety alike. Indeed, with the eyes of the public, media and politicians, very much on the sector, the proactivity needed from housing providers is crucial. Incidents that would have previously remained a local news story, such as the Bolton student accommodation fire, are now very much part of the national focus. With this in mind proactivity, effective communication and reassurance for tenants will go a long way to counter this.
Proving compliance
Proving and evidencing compliance will be critical to satisfying the increasing expectations and scrutiny of regulators. The challenge facing many in the housing sector is to maintain standards whilst also evidencing compliance to current and future regulations.
Providing an audit trail and accessibility of data is now critical. If organisations cannot evidence (in a manner that is irrefutable) which operative carried out which work, on which day, in which property, belonging to which tenant, now is the time to take action and address this – they cannot wait until new regulation comes into effect.
Technological solutions could be the answer
Embracing technological solutions will provide the sector with additional support on both fronts. It will enable social housing providers to efficiently schedule all required jobs (both repairs and maintenance work and routine compliance reviews), whilst automatically providing a full audit trail of all works carried out. Technology can also enable some of the required communications with tenants, such as 'appointment booked' or 'operative on route' notifications, to be automated through software. This takes some of the strain away from housing providers but moreover provides an all-important link between them and their tenants.
The housing sector must act now to prepare for the new regulations that will be placed upon it. Now is the time to explore technological solutions to get ahead and achieve more on both fronts. Not only should housing providers consider how they will physically fulfil these obligations, but also the processes they can implement to make evidencing compliance possible.
Chris Proctor is CEO at Oneserve