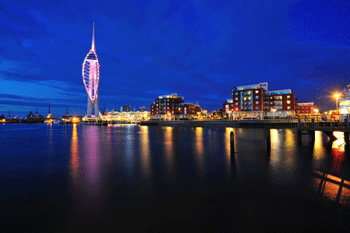 A land agreement has been signed that will pave the way for Portsmouth and Southampton's City Deal and help to create 3,700 jobs.
Regeneration sites at Horsea Island East and the Tipner Firing Range have been transferred from the Ministry of Defence to Portsmouth City Council. They have been earmarked for 2,370 new homes and 58,000 square metres of employment for the marine and advanced manufacturing sectors.
The joint City Deal is worth £950m in public and private investment and is expected to bring more than 17,000 jobs to the area.
Minister for Portsmouth Matthew Hancock said: 'A key part of my job is to get things moving at a senior level in government. The Tipner Ranges-Horsea East transfer we are announcing is a key part of implementing the City Deal and I did not want any time to be lost.
'The City Deal will play a vital role in bringing investment into the Portsmouth area and creating future jobs.'