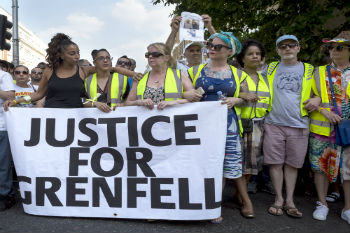 Survivors and families of residents who died in the Grenfell Tower fire disaster have welcomed the announcement by the Metropolitan Police that they are considering charges of corporate manslaughter against the local council and tenant management organisation.
But they have demanded that individuals should be charged in connection with the tower block fire last month that claimed 80 lives.
The newly elected leader of Kensington and Chelsea Council Cllr Elizabeth Campbell said she fully supported the police investigation and would cooperate 'in every way we can'.
In a letter sent to the survivors and families, the police said that after an initial assessment 'the officer leading the investigation has today notified Royal Borough of Kensington and Chelsea and the Kensington and Chelsea Tenant Management Organisation that there are reasonable grounds to suspect that each organisation may have committed the offence of corporate manslaughter, under the Corporate Manslaughter and Corporate Homicide Act 2007.'
It adds: 'In due course, a senior representative of each corporation will be formally interviewed by police in relation to the potential offence,' but it also says the 2007 act does not give detectives the power to arrest any individual from the organisations under suspicion.
The Justice 4 Grenfell group said it welcomed the statement which 'will go some way towards the rebuilding of trust.'
But it added: 'However, corporate entities don't make and enact policies, people do and for that reason, J4G wants to see individuals named, charged and put on trial in addition to the corporate manslaughter charges.
'It's not a case of either one or the other for justice to be done and to be seen to be done, we want both.'
Cllr Campbell said: 'Our residents deserve answers about the Grenfell Tower fire and the police investigation will provide these.
'We fully support the Metropolitan Police investigation and we will cooperate in every way we can.
'It would not be appropriate to comment further on matters subject to the police investigation.'
Meanwhile, at least 60 tower blocks have failed new 'large scale' safety tests which checked cladding in combination with the foam insulation that was used in Grenfell, it has been reported.
The full findings of the 'whole system fire test', along with guidance, is due to be published by the Department for Communities and Local Government later today.
Image: Ms Jane Campbell / Shutterstock.com.