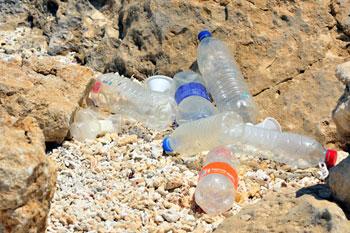 The amount of waste from plastic bottles is 'out of control' in London, the assembly environment committee has warned today.
It is calling on the mayor to consider introducing a deposit return scheme on plastic bottles and to provide more free water across the transport network system.
A deposit return scheme would add a charge on bottled drinks that could be reclaimed when it is recycled. A similar scheme in Germany managed to increase the number of plastic bottles being recycled to 99%.
Chair of the Environment Committee, Leonie Cooper, said: 'Plastic waste is out of control in London. It litters our parks, pollutes the Thames, harms marine life, and adds waste to London's landfill sites, which may be full by 2025.
'We have to turn the situation around. Firstly, Londoners need an alternative to buying bottles of water - this is a crucial part of the solution. Tap water needs to be more readily available. Secondly, we need to improve our recycling of plastic bottles.
'Currently, far too many end up in landfill or in the natural environment and London boroughs have some of the worst recycling rates in the whole of the UK.'
Figures show that Londoners consume more plastic bottled water per person than anywhere else in England, with plastic bottles making up 10% of all litter found in the Thames.