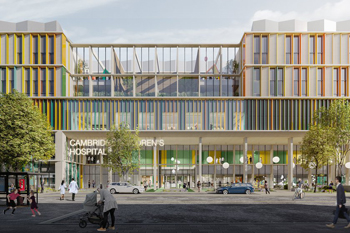 Plans for the first dedicated children's hospital in the East of England have been submitted to Cambridge City Council.
Cambridge Children's Hospital would be built on land next to the Rosie Maternity Hospital, and would be designed to take care of the whole child, not just their illness.
The project is a collaboration between Cambridge University Hospitals, Cambridgeshire and Peterborough NHS Foundation Trust and the University of Cambridge.
Andrew Tollick, senior programme manager for design and construction for Cambridge Children's Hospital, said: 'This is a big milestone for Cambridge Children's Hospital, not only in planning terms, but in sharing our vision for 'a whole new way': one that integrates children's mental and physical health services alongside world-class research to provide holistic, personalised care in a state-of-the-art facility.'
Building work is due to start in 2023 and Cambridge Children's Hospital is due to open in 2025.