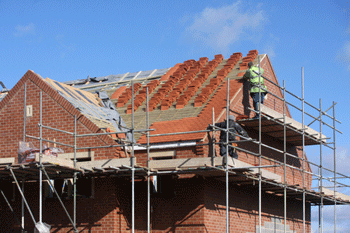 Communities could have missed out on nearly 30,000 affordable homes in the past five years if proposed Government planning reforms were in place, local authority leaders warn.
The Government is considering removing the requirement for developers to build affordable housing on small sites. It is currently consulting on whether to apply this to sites where the number of homes is under either 40 or 50.
However, analysis by Glenigan, commissioned by the Local Government Association (LGA), shows that between 2015/16 and 2019/20, there were 119,505 private homes built on sites of 10 to 49 units.
Based on an average of developers being required to make 25% of new housing affordable, this would have included 29,876 affordable homes being built for either rent or purchase – homes that would not have been included if the Government's reforms were in force.
The LGA is concerned this plan could see the overall amount of affordable housing significantly reduced across the country. It also warns that such a threshold could encourage developers to 'game the system' by putting forward proposals of 39 or 49 or fewer homes respectively on sites which are able to take more to avoid affordable housing requirements.
'Proposals to exempt developers from having to build affordable housing on certain small sites are of huge concern,' said LGA housing spokesperson Cllr David Renard.
'With rising housing waiting lists and record numbers in temporary accommodation, we desperately need to be building more affordable housing, not less. We need to build homes that are affordable to local people and help to reduce homelessness, rather than contributing additional funds to developers' and landowners' profits.'
The latest figures show that more than a million households are on council waiting lists and almost 93,000 households are living in temporary accommodation, because of a lack of suitable low-cost housing.
'These current proposals risk allowing developers to game the system by only putting forward schemes for fewer than 40 or 50 homes, and so avoid building any affordable homes at all,' Cllr Renard continued.
'We want to work with Government on reforming the planning system, which ensures that it is improved and strengthened, delivering beautiful homes and places for communities. But this also needs to see the requirement for affordable housing retained as a key element, by giving councils the power to determine what is right for their local area.'