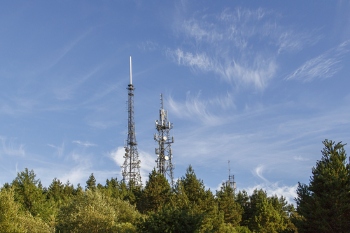 Local government leaders have criticised planning law reforms that will enable mobile network operators to make new and existing phone masts up to five metres taller and two metres wider than current rules permit.
The digital infrastructure minister Julia Lopez has confirmed that the Government will make the amendments to the Town and Country Planning (General Permitted Development) (England) Order 2015 in order to connect the countryside to 4G quicker and accelerate 5G roll-out.
Under the changes to the existing permitted development rights, existing mobile masts will be able to be strengthened without prior approval, so they can be upgraded for 5G and shared between mobile operators.
This move would allow increases to the width of existing masts by up to either 50% or two metres (whichever is greatest) and, in unprotected areas, allow increases in height up to a maximum of 25 metres (previously 20 metres). Greater increases will also be permitted subject to approval by the local authority.
The new rules also mean that new masts will be able to be built up to five metres higher – meaning a maximum of 30 metres in unprotected areas and 25 metres in protected areas, subject to approval by the planning authority.
'We've all felt the frustration of having the 'no bar blues' when struggling to get a phone signal, so we're changing the law to wipe out mobile 'not spots' and dial up the roll out of next-generation 5G,' said Ms Lopez.
'Phone users across the country will benefit - whether they are in a city, village or on the road - and tighter rules on the visual impact of new infrastructure will ensure our cherished countryside is protected.'
Hamish MacLeod, chief executive of Mobile UK, said: 'Building the mobile networks that provide the connectivity on which we all rely is both complex and challenging.
'The industry welcomes the reforms to planning regulations proposed by the Government. They will enable operators to deploy mobile networks more efficiently to meet ambitious targets for rural and urban coverage, including next-generation 5G.'
Responding to the announcement, Cllr David Renard, housing and planning spokesperson for the Local Government Association (LGA) said: 'Tackling the digital divide will be important to levelling up in every community, ensuring everyone has the connectivity they need to thrive.
'However, weakening planning control and increasing permitted development rights takes away the ability of residents, businesses and councillors to contribute in a meaningful way to the deployment of new or upgraded masts, sites and infrastructure, and circumvents local plans.
'Instead of pushing for more permitted development, we would like to see the Government continue to work with local government and the mobile industry to help the streamlined deployment of infrastructure within the current planning system.
'We are also calling on Government to provide funding for councils to put in place a local digital champion, to act as a central contact point to help coordinate local delivery.'