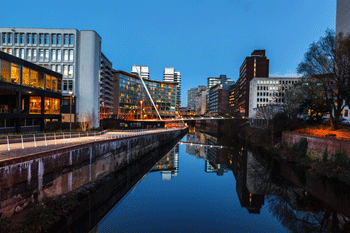 Local planning authorities in the Northern Powerhouse deliver 22% more planning decisions per resident than those in Greater London, new research shows.
According to research published by the British Property Federation and GL Hearn, 25 boroughs in the Northern Powerhouse made 11 major planning application decisions per 100,000 residents. This compares to nine decisions per 100,000 residents in Greater London.
Although the survey showed that average decision making times remained stable at 31 weeks, 65% of planning officers feel the system is getting worse.
Melanie Leech, chief executive of the British Property Federation, said: 'It is really encouraging to see the North live up to its 'powerhouse' moniker, and to be powering ahead with its development pipeline. The development industry has an important part to play in ensuring growth across the country, and it is good to see that there is lots of activity in the North West.
'That being said, average determination times are stagnating across the country, and the issue of under-resourcing continues to be very apparent. Government has made noises about addressing the issue but we have yet to see any policy announcements with teeth.'
When asked about proposed reforms to the system, 44% of local authority planning officers believe that 'planning performance reviews' would improve decision making times. Just over half (53%) supported changes to planning application fees.