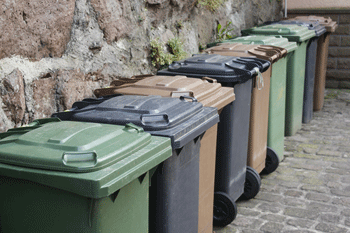 Councils that fail to offer weekly bin collections have been barred from receiving extra funding to boost recycling.
A new £5m fund was announced today for local authorities wanting to give incentives – such as shopping vouchers and loyalty rewards – to households that recycle but it will only be open to councils that offer weekly collections.
Communities secretary Eric Pickles said: 'It is a myth that fortnightly bin collections or unfair bin fines are needed to increase recycling.
'Rewards for recycling show how working with families can deliver environmental benefits without the draconian approach of punishing people and leaving out smelly rubbish.
'This Government is protecting the local environment by supporting recycling, as well as championing weekly collections, which protect local amenity and public health.
'Councils with fortnightly collections will not receive government funding and are short-changing their residents with an inferior service.'