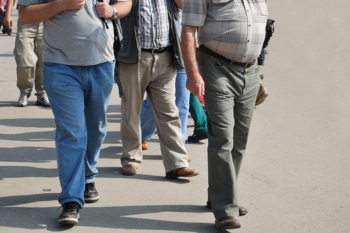 There has been a 'significant' increase in obesity in the most deprived communities in England, a think tank has warned today.
Analysis by the King's Fund has revealed there has been a growing gap between obesity levels between the richest and poorest parts of the country in recent years.
People living in the most deprived areas are also more than twice as likely to be admitted to hospital for obesity related health problems.
The research found that areas the with highest rates of obesity tend to be clustered around urban areas in the north of England.
Richard Murray, Chief Executive of The King's Fund, said: 'Our analysis lays bare a deep and widening gap in the rates of obesity between the richest and poorest parts of the country, with women in our most deprived communities faring particularly poorly. Given the serious health risks that come with obesity and the significant cost to the NHS, this is exacerbating shocking inequalities in health and will only add extra pressure on the NHS.
'People in deprived areas can face significant barriers to accessing affordable, healthy food and taking regular exercise and there is much more the NHS can do to support people to make healthier choices and target services where they are needed most. If levelling up is to mean anything, the new secretary of state must put tackling the obesity crisis and reducing health inequalities at the top of his agenda.'