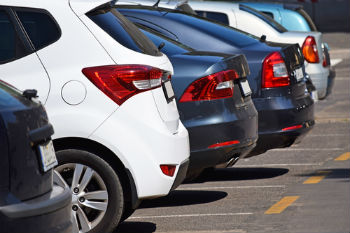 UK drivers spend on average 44 hours a year looking for parking, costing them £733 each in time, fuel and emissions and totalling £23.3bn across the country, leading traffic analysts have estimated.
A major new study from INRIX combines data from its parking database of 100,000 locations across 8,700 cities in more than 100 countries, with results from a recent survey of nearly 18,000 drivers in the US, UK and Germany, including 7,035 in 10 UK cities.
It found that overpaying for parking - the extra time drivers typically add to a parking session to avoid a penalty charge - costs British motorists up to an estimated £6.7bn a year or £209 per driver, while UK drivers also pay £1.2bn a year in parking fines.
The survey asked how many parking tickets motorists received annually. The average across the UK is 0.7, which amounts to £39 per driver per year in fines or £1.2bn for all drivers.
The report states: 'Drivers in Germany get highest number of parking fines a year on average (0.84 per person), followed by the U.K. (0.66) and the U.S. (0.20). Interestingly, German drivers paid the least in fines (€380 million), compared to drivers in the U.K. (£1.2 billion) and the U.S. ($2.6bn).'
'If we add up all the costs in this research, so the time spent searching for a space, the amount drivers overpay for parking and the amount spent in fines, the "total" cost of parking pain in the UK is more than £30bn a year,' said Dr Graham Cookson, chief economist, INRIX.
'This cost is not only borne by drivers but also by local economies as people avoid shops due to parking issues. While 71% of drivers said there isn't enough parking available, occupancy for spaces can be as low as 50%. We have an information problem more than a parking problem. A problem that technology can help fix.'
The research also found that 40% of motorists avoid driving to shops due to problems finding parking.
For more stories like this, please visit our sister publication Transport Network.