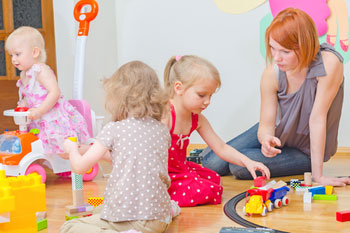 Over 80% of surveyed parents said their children were better prepared to start school ready to learn due to the 30 hours free childcare scheme, despite concerns over funding.
One year on from the launch of the Government's 30 hours childcare scheme, the Department for Education has published research which it argues show parents and children are 'reaping the benefits of better access to formal early education.'
The survey of 3,000 parents revealed that 86% said their children were better prepared to start school ready to learn because of the 30 hours childcare scheme.
It also showed that more than three-quarters (78%) of parents taking up the free 30 hours offer for their three and four-year-olds reported having saved money.
'Every parent wants to give their child the best start in life and that's why it's great to see that the research published today confirms the story I hear so often from parents during my visits up and down the country,' said children and families minister Nadhim Zahawi.
'More parents are increasing their working hours, able to work more flexibly, and spending less on childcare so they have spare cash to spend on their families.
'Working families of every kind are reaping the benefits, including single mums and parents from lower-income backgrounds, who all told us their children's development had come on leaps and bounds by spending time in free childcare.
'In its first year, more than 340,000 three and four-year-olds have benefited from a 30 hours place. Providers have stepped up to the plate to deliver the offer which is having a significant positive impact on families' lives.'
The Government's policy of providing 30 hours of funded childcare, rolled out last September, has been repeatedly criticised for not being properly funded.
A survey published in June found there was an average deficit of over £2,000 per year per child.
The Treasury Committee also found last March that the average rate the Government paid to childcare providers for 2017-18 was £4.34 — 34p short of the average cost per hour of providing childcare.