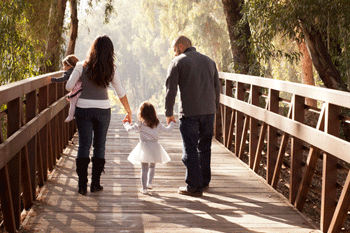 Support for inter-parental relationships is a high priority for those working in children's services, but is not reflected in frontline delivery, a new poll reveals.
A survey of those working with children by the Early Intervention Foundation found 92% of respondents view the quality of the inter-parental relationship as very important to a child's life chances.
It also discovered 86% say supporting good relationships between parents—regardless of marital status—should be a high priority.
However, only 21% of those who responded to the Foundation's survey see it prioritised in their local area.
The survey results have been released alongside a new report—What Works Review—which argues exposure to conflict between parents can put children's mental health and long-term life chances at risk.
The survey also revealed respondents were unaware of the local support services provided for inter-parental relationships.
Only 8% of respondents thought it was included in their midwifery and health visiting services, while only 15% thought it was included in their family workforce development plans.
The Foundation also found only 19% thought it was included in their early help strategy.
Carey Oppenheim, chief executive of the Early Intervention Foundation, said: 'Quality inter-parental relationships – regardless of whether the couple is together or not – and the ability to resolve conflict have a critical influence on the long-term life chances of children.
'Yet, this survey shows that improving the relationships between parents is still low down on the priority list of children's, maternity and family services in too many local areas.
'These results highlight the need for local authorities and all those who work with children and families to place greater emphasis on supporting inter-parental relationships.'