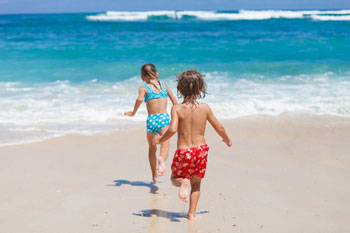 Nearly half of parents with young school children are worring about the extra costs of paying for childcare this summer holiday, new figures reveal.
New YouGov figures show 40% of British parents of children aged between 5 and 16 are concerned about the extra cost of paying for childcare and activities during the holiday.
It also found 1 in 5 mums and dads surveyed expect to skip a meal during the six-week break so there will be enough food for their children to eat.
57% of those asked said the government and local councils should do more to provide extra help to low income families during the school summer holiday period.
Among the parents who took part in the survey, those aged 25 to 34 are the most anxious about their financial situation.
More than half of them (51%) reported being likely to worry about the extra costs the summer holidays will bring, and almost 1 in 3 of them said they would probably skip a meal.
The YouGov survey was published by the poverty charity The Trussell Trust, who will be running holiday clubs for parents and children to attend. These clubs will provide fun and learning activities, and a hot nutritious meal.
Adrian Curtis, foodbank network director of The Trussell Trust said: 'Families who rely on free school meals during term time can find themselves facing hunger in the school holidays, when there is an extra financial pressure to provide main meals.
'No one knows the full scale of hunger in the school holidays yet, but these figures make one thing clear: many families are closer to crisis than we think.'
'It should be a wake-up call to us all that so many children will have a parent expecting to skip a meal or more this summer so they can feed the family,' he added.