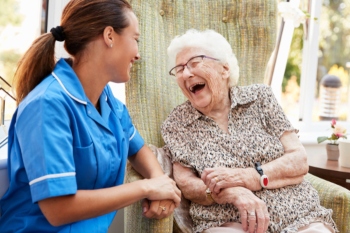 The Government must urgently deliver on its pledge to fix social care, a coalition of 15 national health organisations has warned today.
A new report warns the pandemic has highlighted 'the failings and underlying weaknesses' of the social care system, which must be drastically overhauled.
Health for Care sets out how the NHS relies heavily on the social care system, including guarding against unplanned emergency admissions and ensuring timely hospital discharge to community settings.
Danny Mortimer, chair of the coalition and chief executive of the NHS Confederation, said: 'The NHS and social care are sister services and have been supporting one another and working closely together throughout the pandemic. However, when one service does not work, the other suffers, and the past few months have brutally exposed how fragile and under-resourced England's social care system has become.
'The Government must now deliver legislative proposals to fix social care, once and for all. A well-funded and good quality social care sector is fundamental to a healthy nation and a well-performing NHS. Without social care reform, with a clear and transparent timetable for delivery, backed up by a long-term funding settlement, not only will the NHS and social care continue to run at near breaking point through the pandemic, but they will struggle to address the long-term health and social care issues the crisis leaves in its wake.'
The report warns 1.4 million older people are estimated to have unmet social care needs, while social care spending in England has fallen by 12 % per person over the decade to 2018/19.
A Department of Health and Social Care spokesperson said: 'Our country's adult social care system has never been under such pressure with the unprecedent challenges of the pandemic.
'We have provided billions of pounds of additional funding to the care sector, with further support being made available to respond to COVID-19, including regular testing of staff and residents, free PPE and prioritising staff and residents for vaccinations.
'Delivering a care system that is fit for the future remains a top priority and we will bring forward proposals for sustainable improvements to the system in due course.'