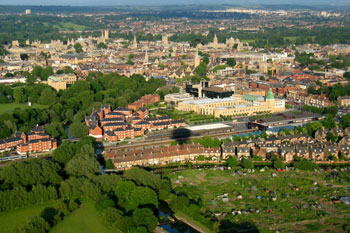 Oxford City Council has warned that the city could lose out on hundreds of new council houses due to changes in the national framework which guides planning policy.
Over the last six years the council has required all housing developments of four or more homes to contribute 15% from the sale price to the public purse after the houses had been sold. The money was then ring-fenced for council housing.
The Government's new National Planning Policy Framework (NPPF), however, means that only housing developments of 10 or more homes should include affordable housing or have to make a financial contribution to the local authority for council housing.
The city council's policy secured contributions from house builders of up to £1.4m – enough to fund around 10 new council homes in the city. The local authority had hoped to generate between £26m and £42m of funding from this approach over the next 17 years.
Oxford City Council argued in its Local Plan submission to the Government that Oxford should be exempt from the new national policy because of the city's shortage of affordable housing.
The local authority said that a lack of large sites within the city meant that it was reliant on the redevelopments of smaller sites. It estimated that sites of fewer than 10 homes could make up as many as 2,000 of the homes that Oxford needs to build by 2036.
However, the Local Plan Inspectors concluded: 'The proportion of additional affordable homes that would arise from this policy would amount to an exceedingly small proportion of the total number of affordable homes delivered to meet Oxford's needs within the city and neighbouring districts.'
Council leader Susan Brown said she would be writing to the secretary of state for housing, communities and local government, Robert Jenrick MP, to call for the Government's NPPF to be amended.
'This is utterly frustrating and hugely disappointing. This new Government policy takes no account of local circumstances faced by a constrained City like ourselves,' said Cllr Alex Hollingsworth, cabinet member for planning.
'This decision means millions of pounds have been taken away from the 3,000 families on Oxford's council housing waiting list. And more importantly, the day when those families can get a home of their own has pushed even further into the future.
'This policy could have delivered hundreds of new council homes during the lifetime of the Local Plan. That may be a small proportion of the overall need for affordable housing, but it is still hundreds of families who will have to wait longer than they otherwise would have done for a home of their own.
'We urge the Government to reverse their policy, and allow cities like Oxford which rely on smaller sites to help meet their housing needs to require developers to provide affordable housing on them.'