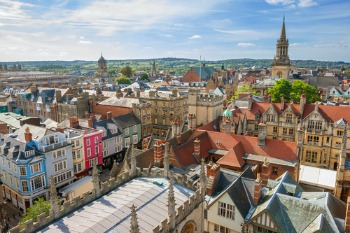 Oxford City Council has become the first local authority in the UK to approve a city-wide air pollution reduction target.
The council has approved its Air Quality Action Plan 2021-2025, which sets out a list of 30 actions to protect residents from harmful air pollution.
It includes a target of reaching 30 µg/m3 of NO2 to be achieved by 2025, compared to the legal target of 40 µg/m3 set by the Government.
The plan includes delivering Oxford's Zero Emission Zone (ZEZ) and Connecting Oxford - two major schemes to tackle road traffic emissions.
Cllr Tom Hayes, deputy leader and cabinet member for green transport and zero carbon Oxford said: 'By setting a new Air Quality Action Plan, and a city-wide air pollution reduction target, we go further and faster than the Government's national legal target, and we'll be the first council to do so with an Air Quality Action Plan. We want to race to our nitrogen oxide target of "30 by 25".
'Approval of our Air Quality Action Plan is an exciting and significant step in our journey to tackle emissions in the city, and I want to thank everyone who responded to our consultation and shape the final version of the plan.'