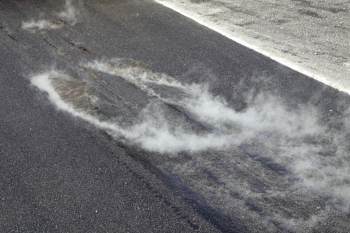 Highways authorities will struggle to future-proof their assets as climate change leads to higher road surface temperatures, despite improvements in the performance of materials, a key sector figure has warned.
Following record-breaking temperatures this week, which saw road surfaces appearing to melt, Rick Green, chair of the Asphalt Industry Alliance, explained: 'In extremely high temperatures the road surface doesn't melt, but the bitumen in it can soften and the material particles become more mobile.
'The effect is most exaggerated on south-facing gradients but is usually limited to the top surface and doesn't generally affect the structural integrity of the road. However, in prolonged periods of hot weather where the road is exposed to slow moving or stationary heavy traffic, the risk of permanent deformation of the surface increases.'
The roads are heating up, and our dedicated highways team have been dusting road surfaces with our gritters before they reach melting point.

Our advice for the heat ??https://t.co/vWpEz1vq6a#WeatherAware #BeatTheHeat #NotAllHeroesWearCapes pic.twitter.com/KO7dlHP0ft

— Leicestershire CC (@LeicsCountyHall) July 18, 2022
He added: 'In order to perform well across all seasons, an asphalt road has to be able to cope with the extremes of road surface temperature we might see, which, in the UK can range from +60°C to -20°C; a significant challenge for design engineers.
'Ongoing research in modern road building materials is continuing to build both resilience and flexibility into the network, improving their performance across a wider temperature range.
'But in a climate of increasing costs, as well as temperatures, and against a backdrop of constrained or reducing budgets, highway authorities face even more challenges to future-proof their assets.'
Last week the Road Surface Treatments Association said its members should advise their customers that using grit dust on the roads during high temperatures can help keep the road network from heating excessively.
This article first appeared on Highways Magazine.