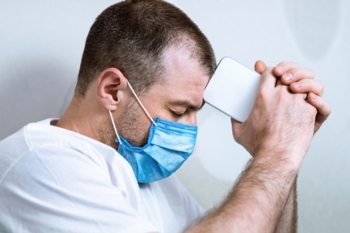 Two million people in England are thought to have suffered from long COVID - with a tenth of those experiencing severe symptoms - according to new research.
Findings from the Government's REACT-2 studies show over a third of people who had COVID-19 reported symptoms lasting at least 12 weeks.
It shows the prevalence of persistent symptoms increases with age, and is more likely to affect women, people who are overweight, smokers, live in deprived areas, or had been admitted to hospital.
Professor Paul Elliott, director of the REACT programme at Imperial, said: 'Our findings do paint a concerning picture of the longer-term health consequences of COVID-19, which need to be accounted for in policy and planning.
'Long COVID is still poorly understood but we hope through our research that we can contribute to better identification and management of this condition, which our data and others' suggest may ultimately affect millions of people in the UK alone.'
The NHS has opened over 80 long COVID clinics across England so far and published a £100m plan to expand support last week.