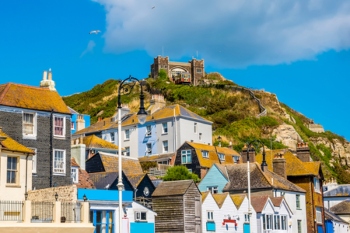 The Government has announced the latest round of towns deals, which will see 26 towns across England share over £600m.
The new Town Deals are designed to boost local economies, create new jobs and homes, and improve local skills.
The funding will also create greener transport infrastructure and help renovate tourist attractions such as Hastings Castle (pictured).
Communities secretary Robert Jenrick said: 'Today I am announcing new town deals in 26 areas, backed by over £610m investment from the Towns Fund.
'This will support locally-led projects to transform disused buildings and public spaces, deliver new green transport and create new opportunities for people to develop new skills. This is a boost for communities and businesses across England.'
Today's announcement means 79 Town Deals have been agreed, with £2bn investment.