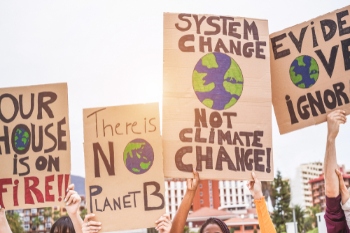 Over 100 local authorities, including district, town, county and city councils, have pledged their support for a Bill aimed at reducing the UK's carbon emissions and ecological footprint.
One hundred and four councils have now pledged their support for the Climate and Ecological Emergency (CEE) Bill by passing motions in favour of making the Bill an Act of Parliament.
The Bill was tabled by a group of MPs in June and is scheduled for its Second Reading in the House of Commons in September, in the lead up to the international climate conference COP 26 taking place in Glasgow. The Bill provides a framework of overarching policy imperatives that recognise our responsibility to reduce the UK's emissions and ecological footprint.
'We are already gathering support and acting at a local level on the aims of the CEE Bill,' said Cllr Andrea Davis, a Conservative councillor and cabinet member for Climate Change, Environment and Transport on Devon County Council.
'To enshrine the aims in law would provide even greater focus on the climate and ecological emergencies and give a greater mandate for national policy and resources to be aligned, to have the necessary impact on these most pressing of issues.'
Cllr Sally Longford, a Labour councillor and deputy leader of Nottingham Town Council, said: 'The recent examples of extreme weather in Europe and the US shows that action on climate change is needed now.
'In Nottingham, we have a proud record of making our city more sustainable while improving peoples' quality of life. We are working to become carbon neutral by 2028 and in June last year we published our Carbon Neutral Action Plan which outlines how we intend to achieve that.
'To tackle climate change, national and international action is needed. In requiring the government to achieve climate and nature targets, and giving the Secretary of State a duty to implement a strategy to achieve them, I believe the Climate and Ecological Emergency Bill acknowledges the urgency of the situation and outlines a framework in which to do something about.'
Cllr Liz Leffman, a Liberal Democrat councillor and leader of Oxfordshire County Council, commented: 'Oxfordshire County Council has committed to adopting the principles of the CEE Bill and to measuring our performance as a council against these principles. We have done this because we recognise that while climate change and degradation of our environment are international problems, what we do locally really matters. We need government to recognise this too, which is why the CEE Bill is so important.'
Cllr Phélim Mac Cafferty, a Green councillor and leader of Brighton and Hove City Council, added: 'We are proud to be among many supporting the Bill, which is urgently needed to reverse the devastating emergency we are facing. Local councils are already showing they are some of the most persuasive and positive in taking action, which is why I have been at the forefront of arguing that councils and local communities must have a seat at the table at COP26.
'Here in Brighton and Hove we are working on progressing actions to mitigate the climate and ecological emergency – from rewilding Waterhall golf course to insulating all of our council house stock, planting thousands of trees to UN-accredited climate change teachers – it's now the time for the government to put its money where its mouth is.'