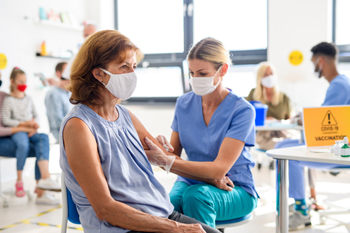 The Government has reported that almost one in five adults in the UK have had the COVID-19 vaccine, a significant milestone for the largest vaccination programme in British history.
Figures published yesterday show the NHS vaccinated a total of 10,021,471 million people between 8 December 2020 and 2 February 2021, including nine in 10 people aged 75 and over in England.
This is equivalent to vaccinating the total capacity of 111 Wembley stadiums in just eight weeks and is an important step towards hitting the target of offering vaccines to the top four priority groups by the middle of February.
'This terrific achievement is testament to the monumental effort of NHS workers, volunteers and the armed forces who have been working tirelessly in every corner of the UK to deliver the largest vaccination programme in our history. Every jab makes us all a bit safer – I want to thank everyone for playing their part,' said health secretary Matt Hancock.
'Vaccines are the way out of this pandemic. The unprecedented national effort we have seen right across the United Kingdom means the majority of our most vulnerable people are now inoculated against this awful disease.'
Vaccines minister Nadhim Zahawi commented: 'The UK's vaccination programme is in full swing and almost one in six people across the UK are already protected from serious illness.
'The NHS is doing everything it can to protect the most vulnerable and will continue to expand the vaccination programme ever further in the coming weeks to save as many lives as possible.'