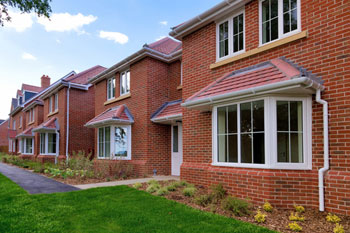 Council chiefs are calling for councils to be given powers to incentivise developers to build housing more quickly as new figures reveal over a million homes with planning permission are waiting to be built.
The latest figures from the Local Government Association (LGA) show that 2,782,300 homes have been granted planning permission by councils since 2010/11, but over the same period only 1,627,730 have been built.
The number of planning permissions granted for new homes has more than doubled since 2010, with nine in 10 planning applications being approved by councils.
Ahead of the Queen's Speech tomorrow, LGA has called for legislation that enables councils to charge developers full council tax for every unbuilt development from the point the original planning permission expires.
The LGA also urged the Government to make it easier for councils to use compulsory purchase powers to acquire stalled housing sites or sites where developers do not build out to timescales contractually agreed with a local planning authority.
Developers have been building more homes in recent years, with completions at their highest level in the last 10 years – 220,600 – in 2019/20. However, this falls short of building the 300,000 homes a year the Government has pledged.
As well as more powers to incentivise developers to build, the LGA also called for councils to be given the powers to kickstart a social housebuilding programme of 100,000 homes a year.
'Councils are committed to working with government and developers to build the housing the country needs,' said Cllr David Renard, the LGA's housing spokesperson.
'It is good the number of homes built each year is increasing. But by giving councils the right powers to incentivise developers to get building once planning permission has been granted, we can go further and faster.
'Councils are granting permission for hundreds of thousands of homes but families who desperately need housing cannot live in a planning permission.
'This is why we need the Queen's Speech to deliver the reform needed to enable councils to tackle the housing crisis.'
Commenting on the new LGA figures, Tom Fyans, campaigns and policy director at CPRE, the countryside charity, said: 'In the eye of an affordable housing crisis, we need a "use it or lose it" approach to planning permissions to force developers to build homes on land already allocated.
'Today's figures are just the latest atop a mountain of evidence that planning permissions and the availability of land are not holding up the delivery of homes – rather it's the developers slowing down building rates to keep house prices high and maximise their profits.
'Worse yet, the countryside is central in our response to the climate and nature emergencies and we simply can't afford to keep releasing more and more land unnecessarily for speculative development. That's why it's crucial the Government rethinks current proposed changes to planning and uses the upcoming planning bill to push developers into increasing build out rates on existing sites with planning permission. Anything less will only make this bad situation worse.'