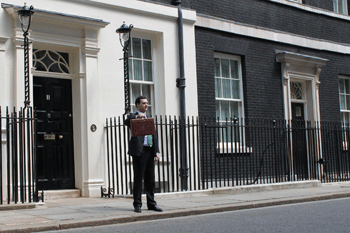 Chancellor George Osborne has confirmed he will deliver a summer Budget on 8 July, where he is expected to detail long-anticipated £12bn cuts to welfare.
He said the announcement would have a 'laser-like focus' on raising productivity and living standards and 'deliver on the commitments we have made to working people'.
The chancellor's last Budget on 18 March saw Osborne delivering a pilot programme to devolve 100% of business rate growth to Greater Manchester and Greater Cambridge alongside a new City Deal with the West Yorkshire Combined Authority and support for a range of infrastructure projects.
Speaking on the steps of 11 Downing Street, Osborne refused to be drawn on the details of his next Budget but said he wanted to make the welfare system 'fair for the people who pay for it'.
'I will continue with the balanced plan we have to deal with our debt, invest in our health service and reform welfare to make work pay,' he said.
'But there will also be a laser-like focus on making our economy more productive so we raise living standards across the nation. We are going to put Britain in shape for the long term.'
It is expected the Budget will continue the austerity approach established under the Coalition. However councils have long called for an end to town hall budget cuts, with the now Tory led Local Government Association this weekend warning further reductions were 'not an option'.
Responding to Osborne's announcement, Labour's shadow chancellor, Chris Leslie, said: 'Two Budgets in four months from the same Chancellor raises questions about what he's planning. The country cannot afford a sharp turn to the right - that would hardly be consistent with a "long-term plan". 'We need a balanced approach and a focus on building a more productive economy.'